E-Bay & Amazon Shipping, Terms & Conditions
---
Shipping:
We ship on a Daily Basis. We strive to have the fastest order processing and best customer service possible.
All in-stock orders placed before 12:00 noon CST are guaranteed to ship the same day (Monday-Friday) excluding holidays, or otherwise noted.
All orders come with confirmation shipping e-mail with Tracking #.
Shipping Restrictions: Currently we only ship to the USA and Canada only.
---
FedEx Shipping Map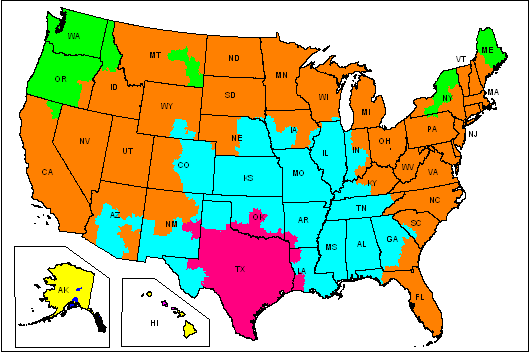 ---
Return Policy:
Occasionally products are discontinued by the manufacturer with little or no notice. If there is an order that contains additional products, we will contact the customer with options of canceling the one item or the entire order. In the event that there is an order for only the discontinued item, we will cancel the order and make a full refund
Return policy: In order to return an item for any reason, the buyer must contact West Hardware Co. via email at wtv@westhardware.com before returning the item. This must occur within 14 days of shipment. The return will be processed with the online sales department. If the return is approved, the item will be exchanged or refunded at the sellerís discretion. If the item is refunded, only the price of the unit will be refunded. The shipping charges WILL NOT be refunded unless otherwise stated. Items are only accepted for return from 14 days of shipment. Returns on non damaged or defective merchandise may be subject to a Restocking fee. We strive to make your shopping experience the best to keep you coming back. If there is anything we can do to help your transaction better, please let us know. Email wtv@westhardware.com or call us at 254-826-3005 8:00am -5:30pm - Monday - Friday , please ask for Internet Salesman.
---